Funky Monks is America's premier Red Hot Chili Peppers tribute band, playing all the RHCP radio favorites plus the great punk & funk classics that helped put the multi-Grammy winning Peppers on the map.  Since formed in 2003, we've had the privilege of playing at venues all across the U.S. as well as internationally.  From bar gigs to college fraternity parties and campus events to private parties to city festivals, Funky Monks have traveled all around to entertain fellow Peppers fans.

We are fans playing for fans, and every show is a celebration.  While offering selections from a growing catalog of 80+ songs, we focus on giving our audience the same live experience they would expect from a real Peppers concert: stage energy, crowd interaction, funky live jams, random surprise covers and of course all of their biggest hits.  Our goal is to make everybody in the venue forget for just a moment that they are watching a tribute band.  With uncanny Anthony vocals, funky Flea-style bass, Chad's heavy-hitting rock style to a guitarist who can bring Slovak, Navarro, Frusciante and Klinghoffer together all in one show...you won't find a more accurate tribute to the Red Hot Chili Peppers!
Ryan "Ryanthony" Machnica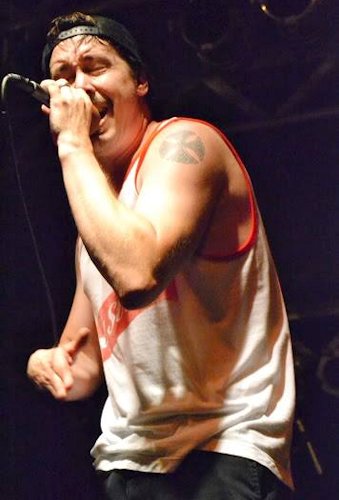 Ryan has been singing with Funky Monks since the beginning. It is easy for a tribute band to tout "our singer sounds just like the original", but in this case, we mean business. Nobody sings Anthony like our very own. We have been complimented countless times by fans that thought a Chili Peppers CD was playing when they first entered the venue, only to realize it was a live band performing the songs.  Beyond the voice, Ryan brings his stage energy, upbeat personality, and contagious sense of humor to engage the audience at every show.

In addition to his mastery of the RHCP vocal style, Ryan is known for his creative celebrity impersonation mash-ups from.  If you have ever wondered what a Foo Fighters song would sound like if sung by Arnold Schwarzenegger, you just may find out in the wee hours following a Monks show.
Jeff "Jefflea" Genualdi - bass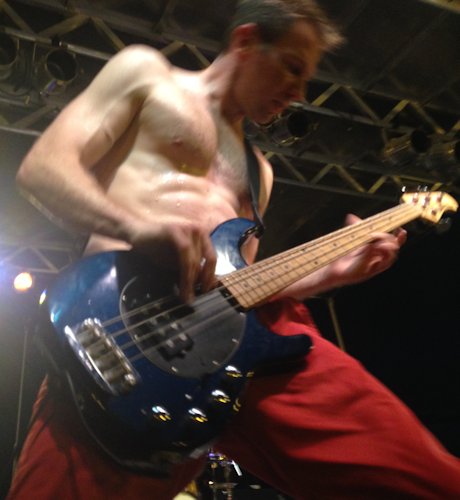 Hailing from the NW suburbs of Chicago, Jeff is a veteran of the local live music scene.  Influenced to take up the bass by Geddy Lee, Jeff worked tirelessly to develop his skills while learning to play Rush tunes at a young age.  Steve Harris and Paul McCartney were also great influences during Jeff's formative years that remain at the top of his list of favorite bassists.  Performances and recording projects with Garbo Swag, Stone Diam, Cyberputz, and several other shorter-term rock and jazz groups kept Jeff musically active throughout the 90's and early 2000's.

As a huge Flea fan since discovering Red Hot Chili Peppers in 1989, the idea of playing his fun and challenging basslines led Jeff to start Funky Monks as Chicago's first RHCP tribute.  After over a decade with the Monks, the joy of playing RHCP music and the camaraderie of the band keep Jeff going strong and always looking forward to the next gig.

Gear: Fender Flea Jazz Bass, Ernie Ball Music Man Sterling 4-string, Ernie Ball Music Man Sting Ray 5-string, Gallien-Krueger 2001RB amp head, Gallien-Krueger 410RBH and 115RBH speaker cabinets, BOSS Bass Overdrive, MXR Bass Envelope Filter, MXR Micro Amp, Alesis 3630 Compressor.
Mike Walker - guitar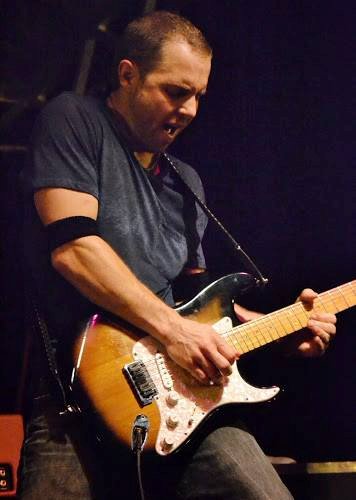 As the most handsome member of the band, Mike's smile melts the hearts of our lady fans (and Paul).  But watch out, the man is not just about good looks...he can shred you some John Frusciante, as well as Josh Klinghoffer, Dave Navarro, and even a little Hillel Slovak like no other.  Mike has been keepin' it funky with the Monks since shortly before the arrival of RHCP's Stadium Arcadium.

Mike's taste for improvisational jamming significantly expanded the Funky Monks live show, and is evidenced by his love for jam bands like Phish.  By sheer coincidence, Mike got to meet and chat with Trey Anastasio immediately before a Funky Monks show when Trey was in town for a Phish concert in Charlotte, NC.  As an astute Paulie G once noted, "Mike likes music with clean guitar tones".

Gear: Fender Stratocaster, Mesa Boogie lunchbox amp, Marshall cabinet, a zillion effects.
Paul Guziec - drums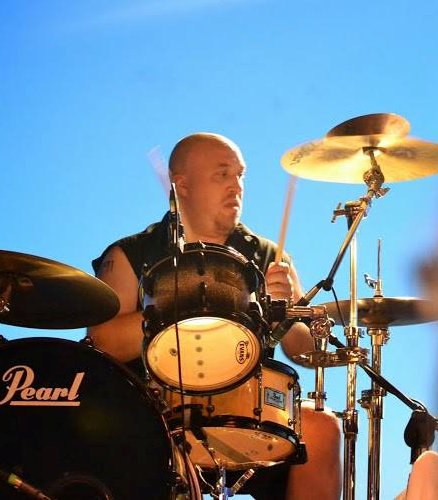 Paul has been holding down the foundation for Funky Monks as a hard-hitting drummer with an impeccably steady clock for over a decade.  His showmanship and boisterous personality are guaranteed to draw your attention towards the back end of the stage as he swings the funky Chad Smith beats.

Prior to Funky Monks, Paul had a long run as the rhythm section partner-in-crime with Jeff for Garbo Swag and Stone Diam, as well as stints with Stone Velvet Roses and Nightrain.

With a passion for 80's hair bands, Paul got his start rockin' out to KISS and Motley Crue.  He can even be seen out-Tommy-Lee-ing Tommy Lee in a side-by-side performance with the man himself playing Dr. Feelgood in a rare video clip.

Gear: Custom Paulie G kit.